Skyrian-Ceramics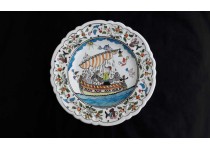 The aesthetics of Skyros houses, is based on two key elements.

   On permanent structures, construction and carpentry: (sfas, shelves, stamnostatis bench, fgou, skatzidia, built shrine) and species that are placed in prominent places for practical use but also for aesthetic presence.
These items are a big and probably the biggest asset of Skyros Popular Culture. Their importance is due to the artistic value of these objects, rarity, their great current material value, their historical origins, sensory perception and tradition of Skyrian people.
Because of the history of Skyrian Folk Art and the general history of the island these objects played an important role in society of Skyros, particularly among women of the island, who were the prime carriers of the traditional artistic culture on the island.

   The traditional pottery Skyrian previously was limited in the construction of utilitarian objects (such were the pitchers, the colds, the pots etc) decorated with white-line drawing without glaze and color angiographies. For the decoration of the traditional Skyros houses dishes, platters, pitchers, cups, bowls etc were imported to the island  from Çanakkale, the Iznik (Nicaea) and Kütahya of Asia Minor. Also from Italy, Spain, Holland and later England. This introduction, attested since the years of Venetian and Ottoman rule continued until the first decades of the 20th century.These ceramics Skyrians call them "old." Now they are not imported anymore. In modern ceramics of Skyros, that is a thriving craft sector, utilitarian pottery production is limited. Nowadays copies of old crafts are produced .
When your order is completed we will inform you about the payment via PayPal
---